Practical experience gained outdoors greatly influences my knife styles and designs. I build each knife with the intention of making it comfortable to hold and use, with a blade shape and geometry that is suited for the intended task. The blade must also be tough, able to hold an edge, but be re-sharpened easily. For this reason, each knife is made with premium materials.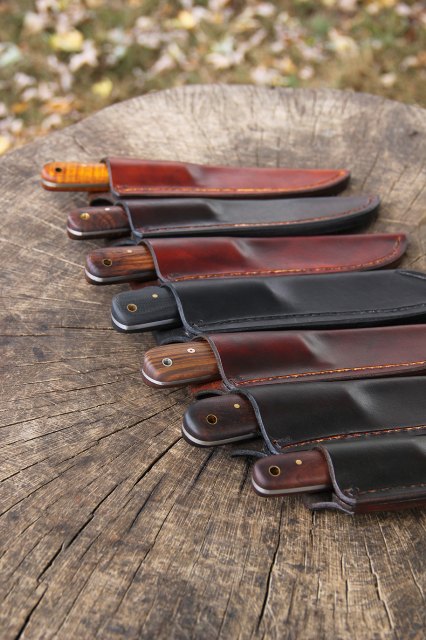 I now use O-1 tool steel for most of my knife models. All stock reduction blades are made with O-1.
For my forged blades, I use several grades of steel, based on the knife that I am building. 52100, 5160, 6150, W-1, W-2, and 1095 are all steels that I have used in the past for forged blades. I use 5160 for the Sand Mountain Chopper, and 52100/6150 for most of the smaller forged blades.
All of these steels make great knives, with excellent edge holding and re-sharpening qualities.
You may see one of my knives made with an antique file or rasp as the steel stock. I normally leave some of the file cuts on the knife so you can tell that it is file steel. These make great knives with an added touch of period style.
The handles are made using laminated hardwoods, micarta, antler, cord, bone and high-quality domestic and exotic woods.
One of my specialties is the oxidized blade finish, which improves the rust resistance of the blade. The knives are ground, heat treated, assembled and finished using careful hand working techniques.
The heat treating is done using an edge first oil-quench process to harden the blades and a tempering process to draw some of the hardness from the steel. The drawing, or tempering, is the process that makes the knife tough, yet easy to sharpen.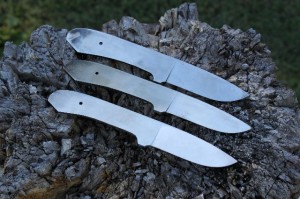 Above: These three blade "profiles," which are in progress here, have been cut from a piece of steel and initially shaped.  
The Classic Hunter model's blade length is measured from the front of the guard to the tip.
Blade measurements for all other models are measured from the plunge line or grind line to the tip.
All knife measurements are, of course, approximate. Each knife is handmade and unique.