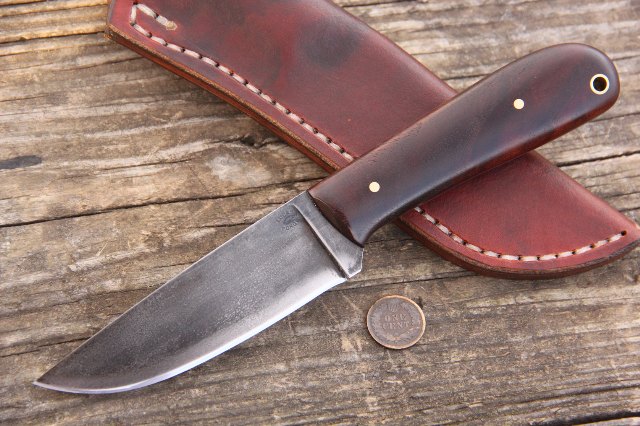 The historically-inspired Powder River design has everything that a traditional outdoorsman could require in an all-purpose belt knife, for this knife is built to serve.
This model is approximately 8 3/8 inches overall, with its 4-inch blade. It is also available with a 5-inch blade.

Made out of O-1 high carbon tool steel, in a 1/8-inch width.

The blade has a smooth, sweeping edge that holds a sharpening like only high-carbon steel does. The sharp tip is ready and waiting when you are faced with chores like skinning your catch. An aged blade finish is the standard for the Powder River family, but satin and hammer-forged pattern finishes are both options when customizing this knife.
Brass pins complete this look. Or, you can go deluxe and upgrade to 3/16″ mosaic pins!

Your handle choice. I recommend native, natural materials such as oak, curly maple, walnut, mesquite, osage orange, or ironwood, because of the nature of this model, but feel free to be creative. The knife above has a classic, elegant walnut handle.

Includes a custom-fitted vertical-carry leather belt sheath – handmade right here by Ike! Horizontal sheaths are not available for this model…but better than that and best of all in the sheath options – the Powder River is fully compatible with the Trekker sheath. Please be sure to check out all Trekker's amazing details

over here

!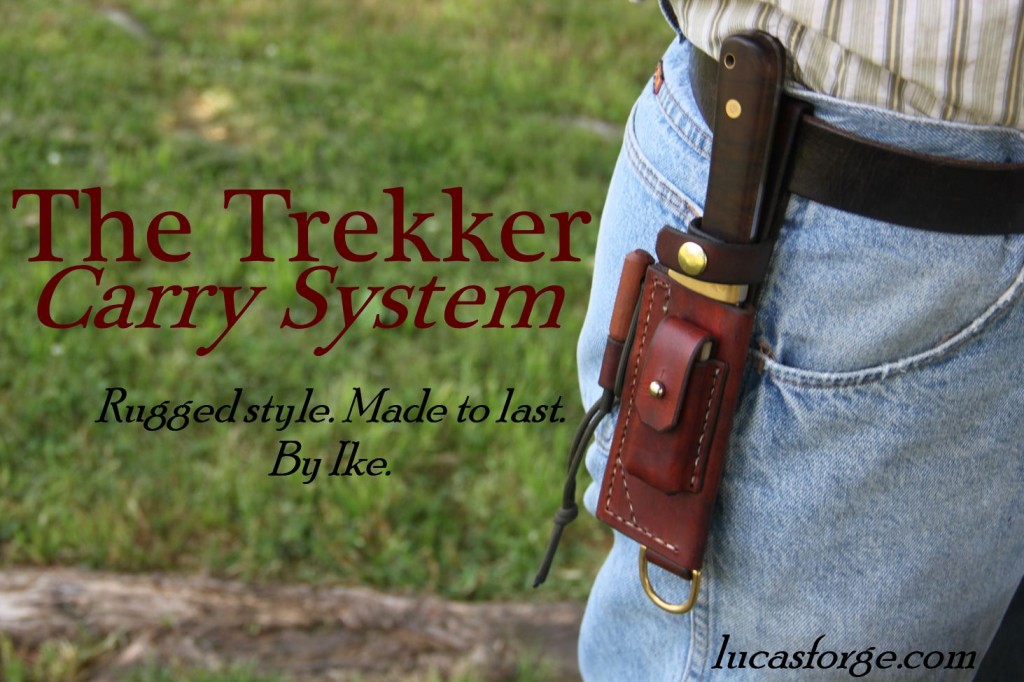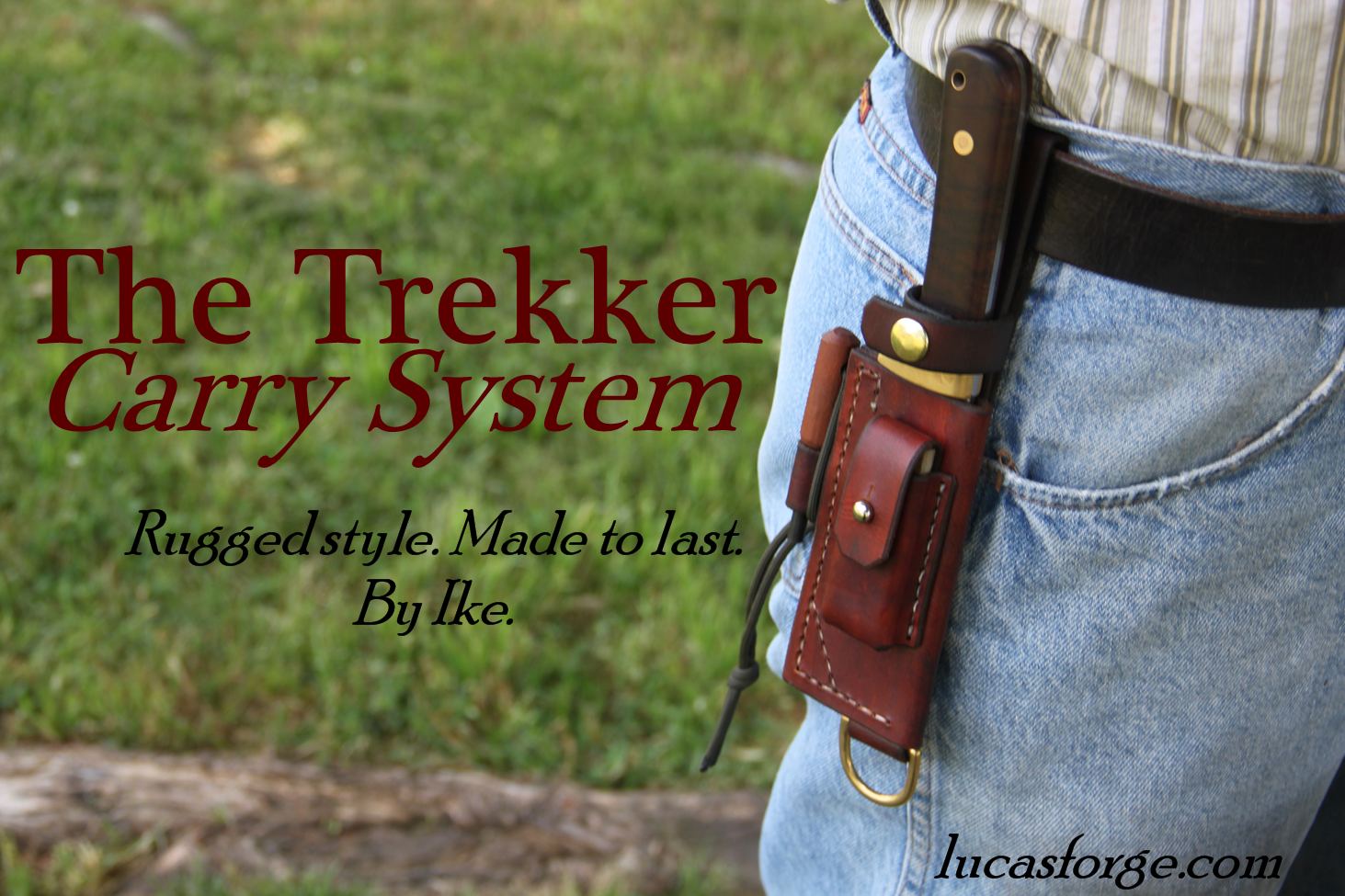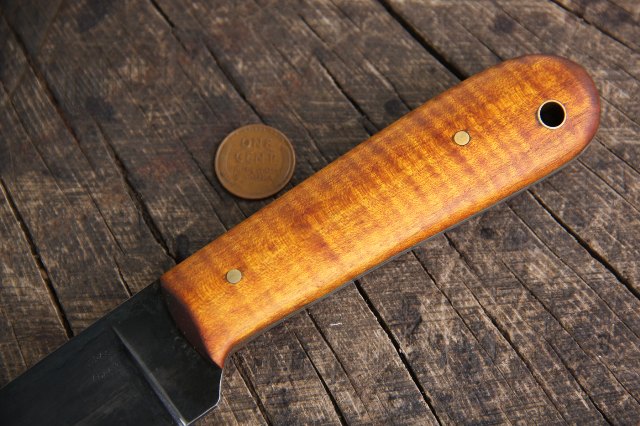 The Powder River model starts at a base price of $175.
To order your own custom Powder River knife, please click on the button below to see a form with some of the options that are available! If you're interested in something you don't see here, please visit the Custom Options page, email lucas@customhuntingknives.org or call (256) 431-6839 for more details.
Important! Please note that I require a $25.00 deposit when taking a custom knife order online. By using the PayPal button below, you will be placing a custom knife order and paying the deposit. At this time the expected delivery for custom orders is about 7 months from order date. An email will be sent to let you know your order is ready. Thank you!
Order Form for Custom Powder River
Thank you so much for your interest in rural Alabama craftsmanship.
Here are more examples of the Powder River. If you have questions concerning a particular knife, please reference its number when writing (example: PR-5). Thank you again for your interest! Have a grand day out there.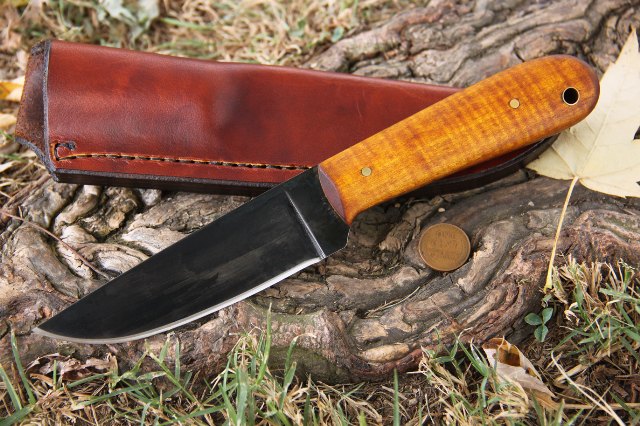 Above: (PR-7) Light curly maple handle.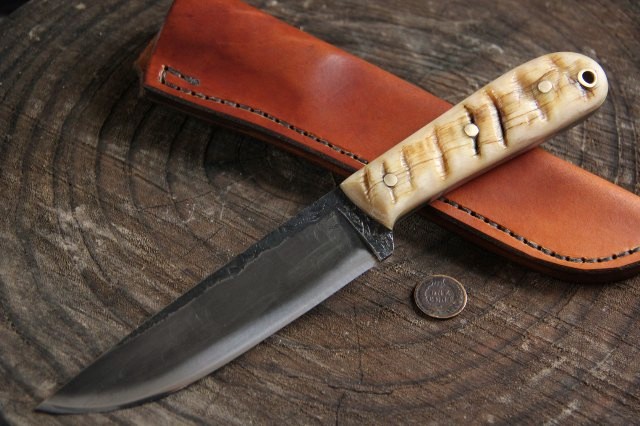 Above: (PR-6) This edition of the Powder River has the 5-inch blade option, the hammer forged blade finish, and a ram's horn handle!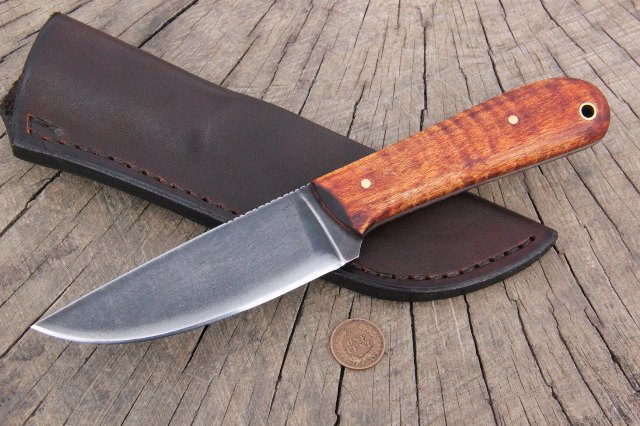 Above: (PR-5) This beauty has a muted curly maple handle and also a patch of thumb jimping along the spine for added grip and interest.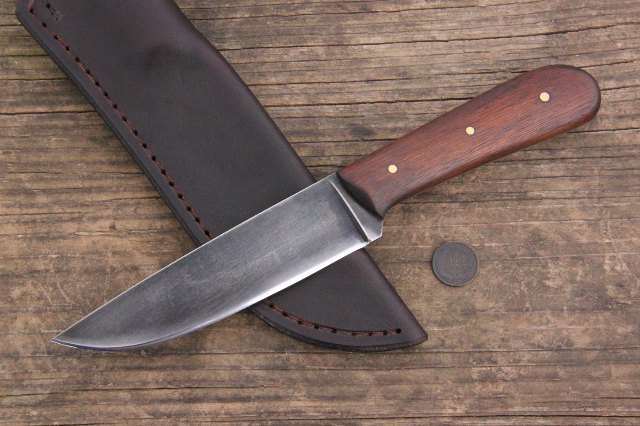 Above: (PR-4) This one has a customized 5-inch blade; walnut handle. No lanyard hole.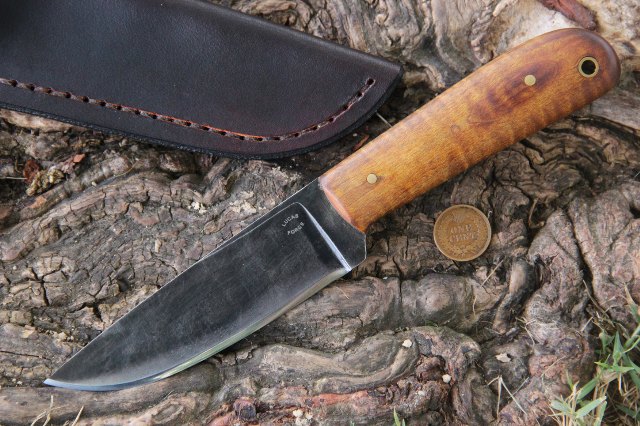 Above: (PR-3) Traditional style. Ready to work.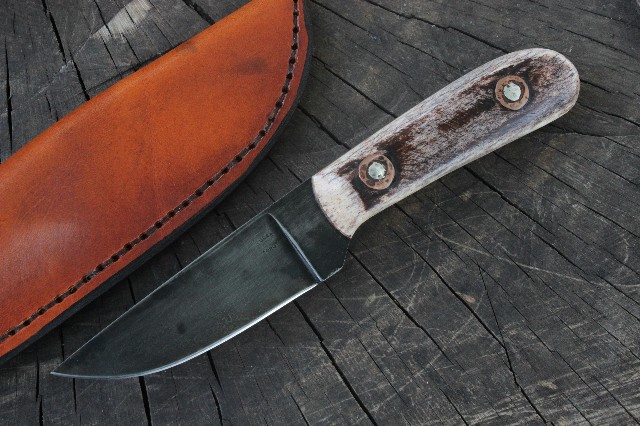 Above: (PR-2) This is a deluxe version of the model that features an aged bone handle and oversized copper/nickel silver pins. A real beauty.
 Above: (PR-1) This classic walnut handle fits right with the Powder River design.
What will yours look like? Order your custom Powder River knife using the form above!