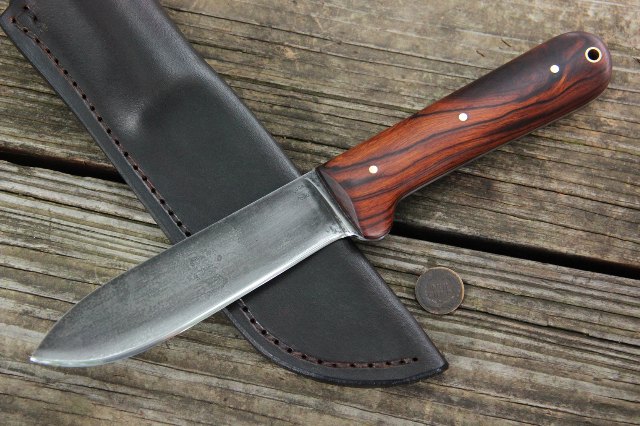 The Kephart is one of those intriguing historical knife designs that was made popular many years ago. This design is timelessly practical and has found a place among the models at Lucas Forge.
The overall length of this model is about 9 1/2 inches, blade about 4 1/2 inches. The Kephart can also be ordered with a 5-inch blade for a little more working room. Either way, this is one impressive knife.

The knife's signature profile is a straight top-line and that wide blade of 1/8-inch, O-1 high carbon tool steel – useful for many outdoor and hunting adventures.

The Kephart comes standard with an aged blade finish. This can be replaced with a custom satin or hammer-forged finish.
Three brass pins are also standard. Mosaic pins are available as an upgrade.

Comes in your choice of handle! The Kephart pictured above has a spiffy desert ironwood handle. Traditional woods like walnut and ironwood are popular. When specially crafted for you with your own customizations, this model becomes a work of art that is ready to work for years.

Each knife also comes complete with its own handcrafted vertical-carry leather belt sheath, so that you can pack it along with ease. Or, upgrade to the Trekker sheath for a super-custom package! Please feel free to check out all Trekker carry system's amazing details here!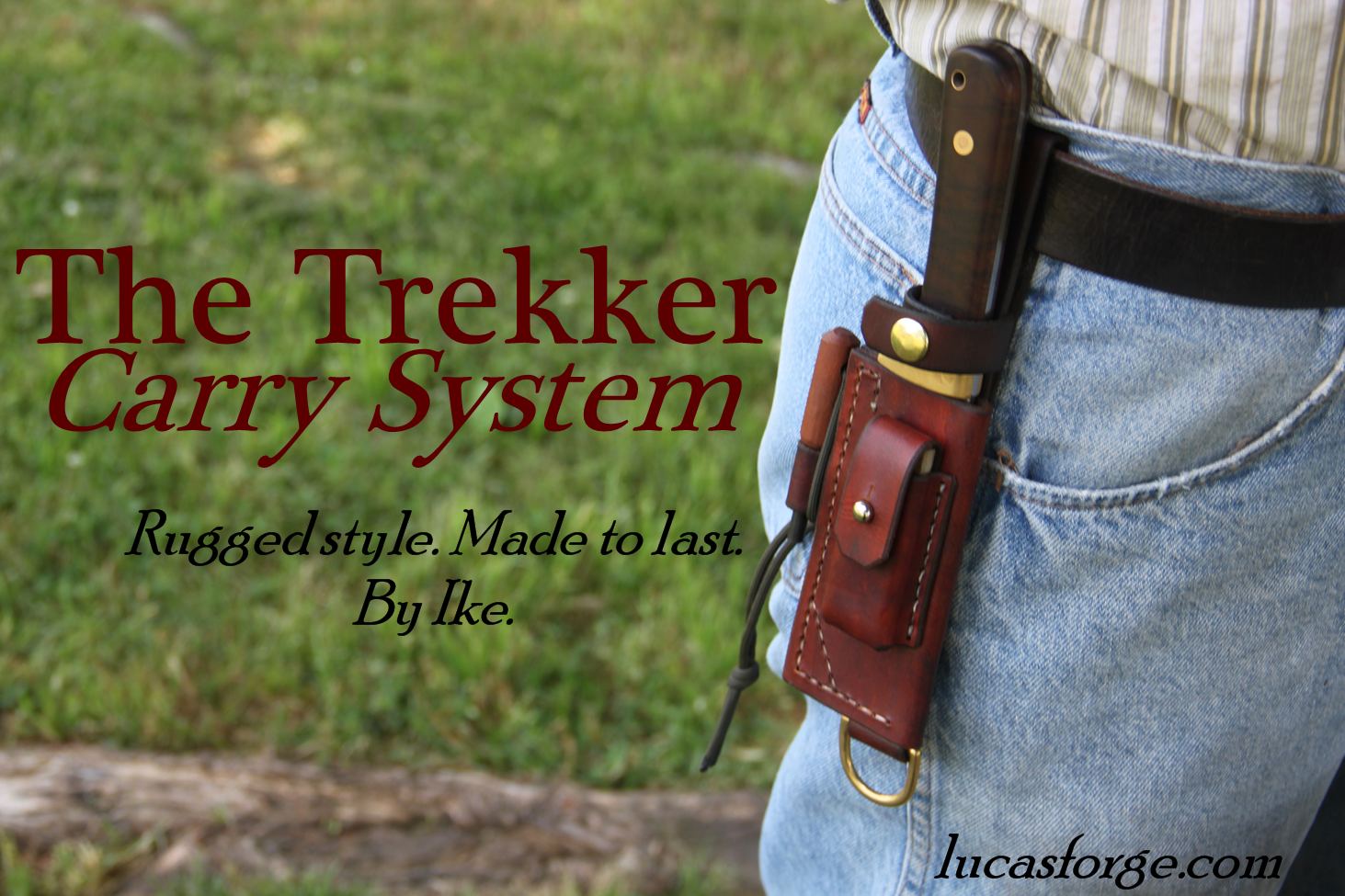 The Trekker sheath stars alongside a Kephart with a stabilized walnut handle, mosaic pins, and hammer forged blade finish! A winning pair!
The Kephart model's base price is $190.
To order your own custom Kephart, please click on the button below to see a form with some of the options that are available! If you're interested in something you don't see here, please visit the Custom Options page or direct your questions to the email address below.
Click Here to Order a Custom Kephart Knife
If you have any questions, please email lucas@customhuntingknives.org. Also, don't forget to check out some additional examples of the Kephart model below – we hope to add more as time allows. If you have a question about a certain knife, please reference its number when writing (example: K-1). Thank you so much for looking!
Note: Some of the knives shown below have blades that are shorter than my current standard blade length. The 4 1/2-inch blade is now standard for this model.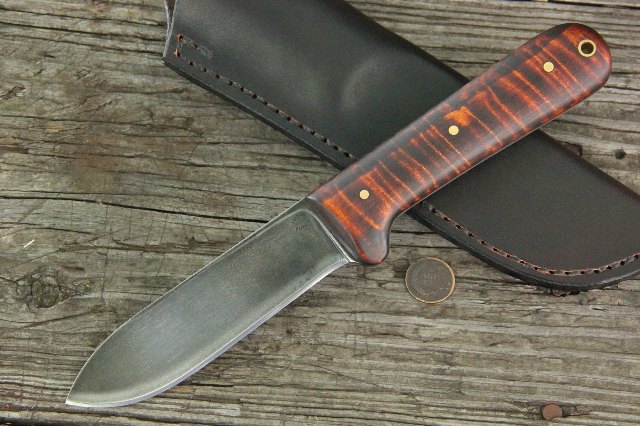 Above: (K-15) Wild curly maple handle!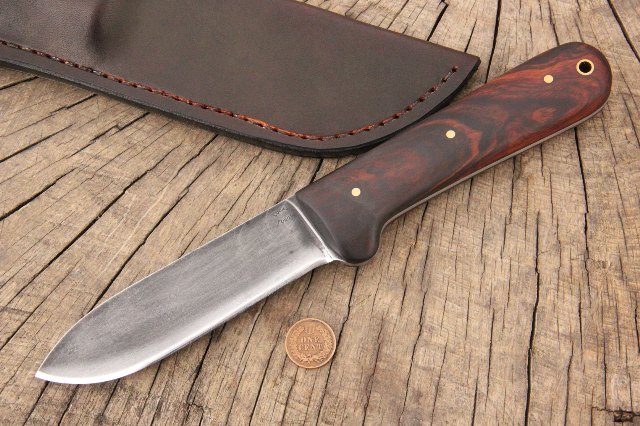 Above: (K-14) The Kephart looks right at home with ironwood.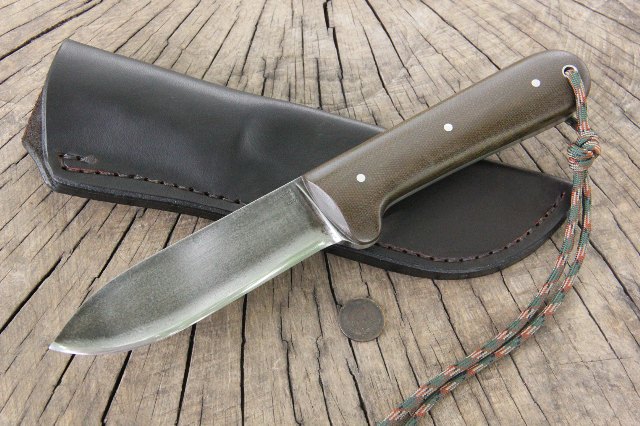 Above: (K-13) Classic olive green micarta pairs very well with the Kephart. Plus it's grime and water resistant.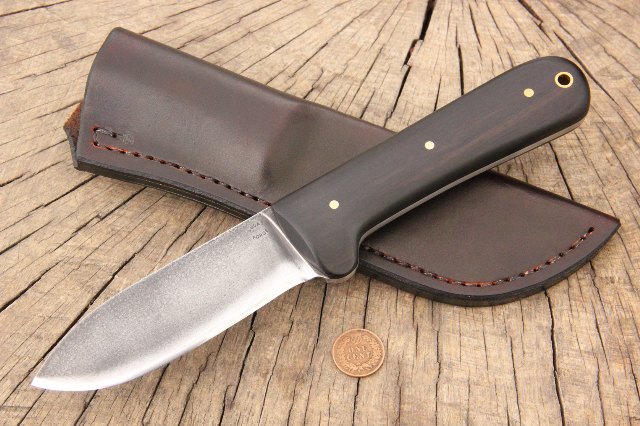 Above: (K-12) African blackwood.
Above: (K-11) An aged traditional osage orange handle paired with the aged blade finish and handsome brass hardware.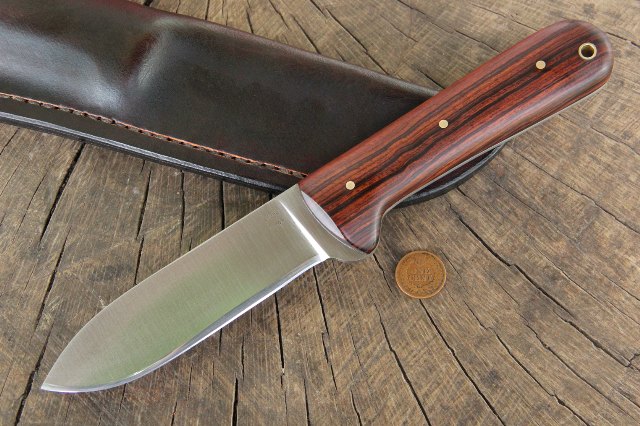 Above: (K-10) Straight-grain ironwood, satin blade finish and brass hardware.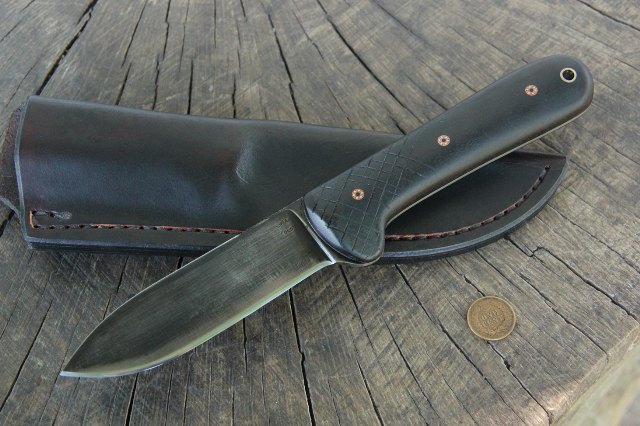 Above: (K-9) This knife is outfitted right! The aged walnut handle is paired with some amazing details, such as thumb-jimping for better grip, an aged blade finish, cross-hatching, and three copper-based mosaic pins.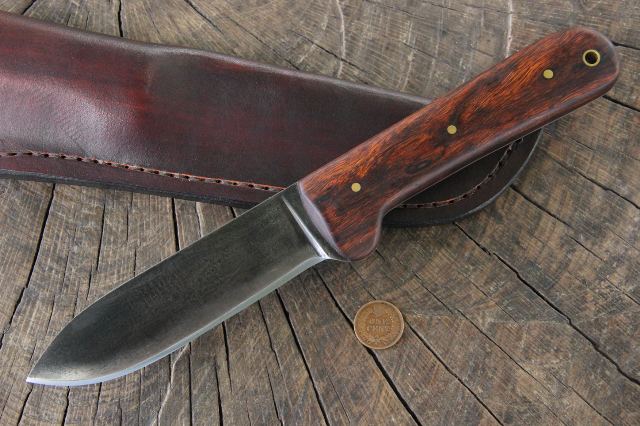 Above: (K-8) Another fine example of an ironwood handle.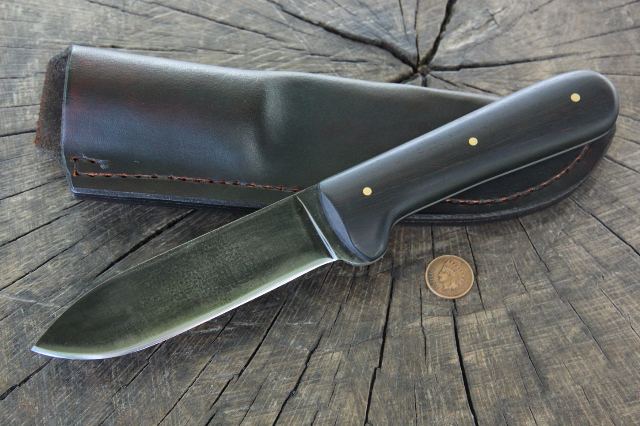 Above: (K-7) African blackwood stars in the knife!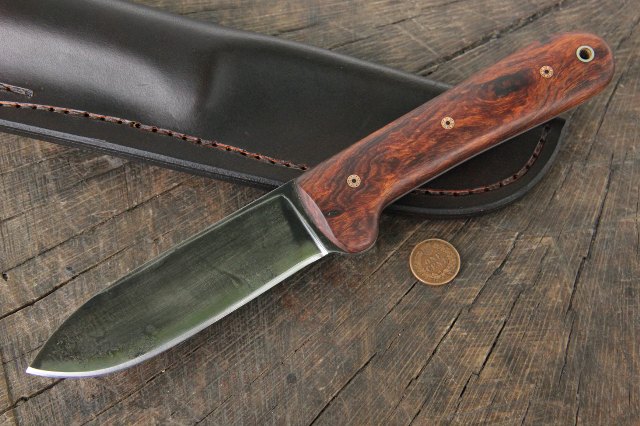 Above: (K-6) This is one deluxe ironwood handle and it just gets better with the addition of three copper/nickel silver mosaic pins! Aged blade finish.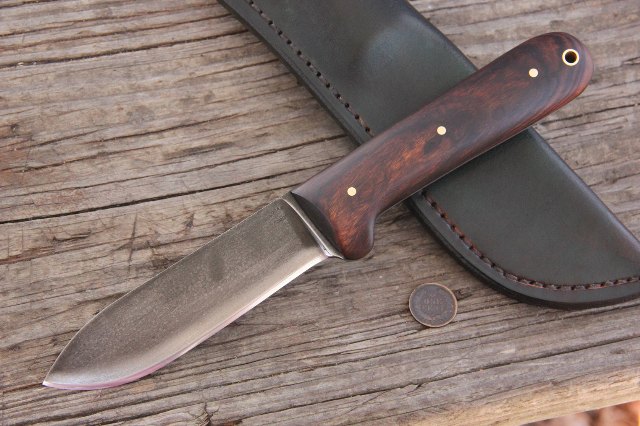 Above: (K-5) Ironwood handle, aged blade finish, and brass pins! Cool!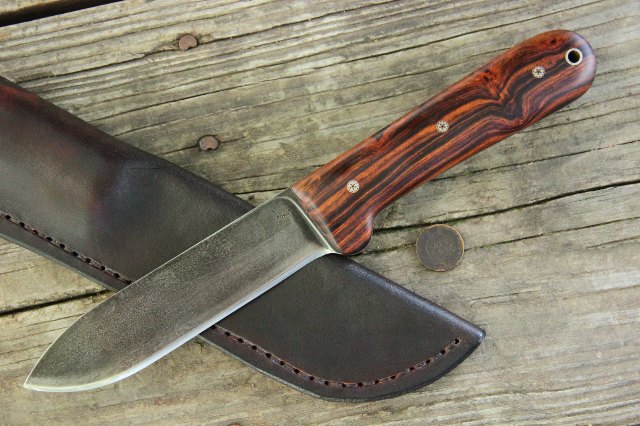 Above: (K-4) A wild ironwood handle pairs with three mosaic pins…a stand out!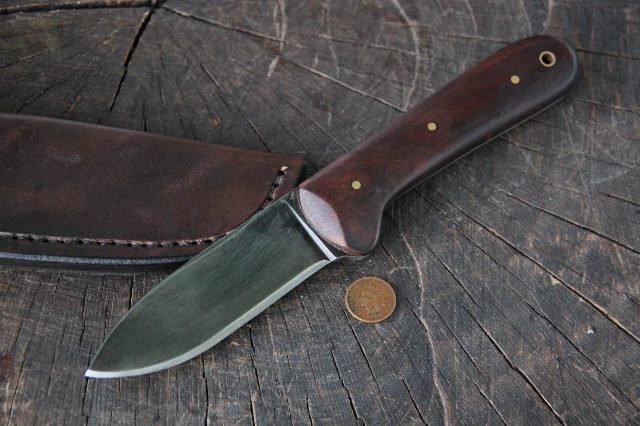 Above: (K-3) Another walnut handle. This blade is a hefty one with super-thickness.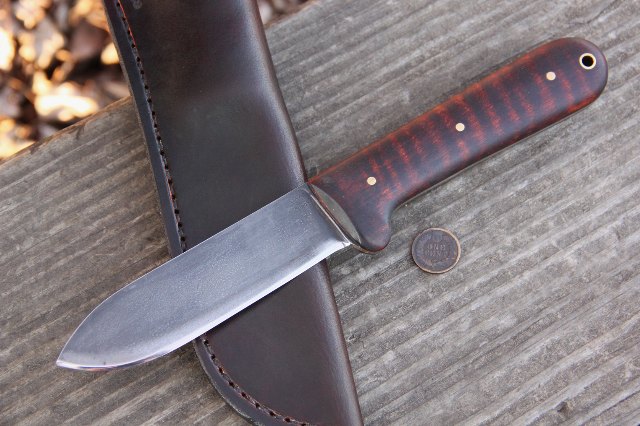 Above: (K-2) Curly maple handle.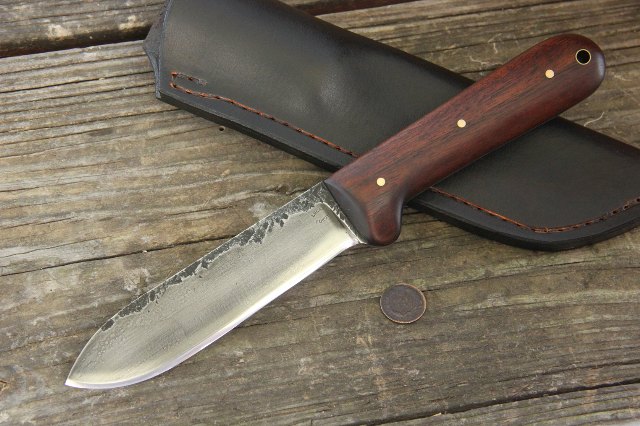 Above: (K-1) Pictured here is the Kephart model with a dark walnut handle, the 5-inch blade option, and the hammer forged blade finish!
What will yours look like? Order your custom Kephart knife using the form below!
Order a Custom Kephart Knife Here