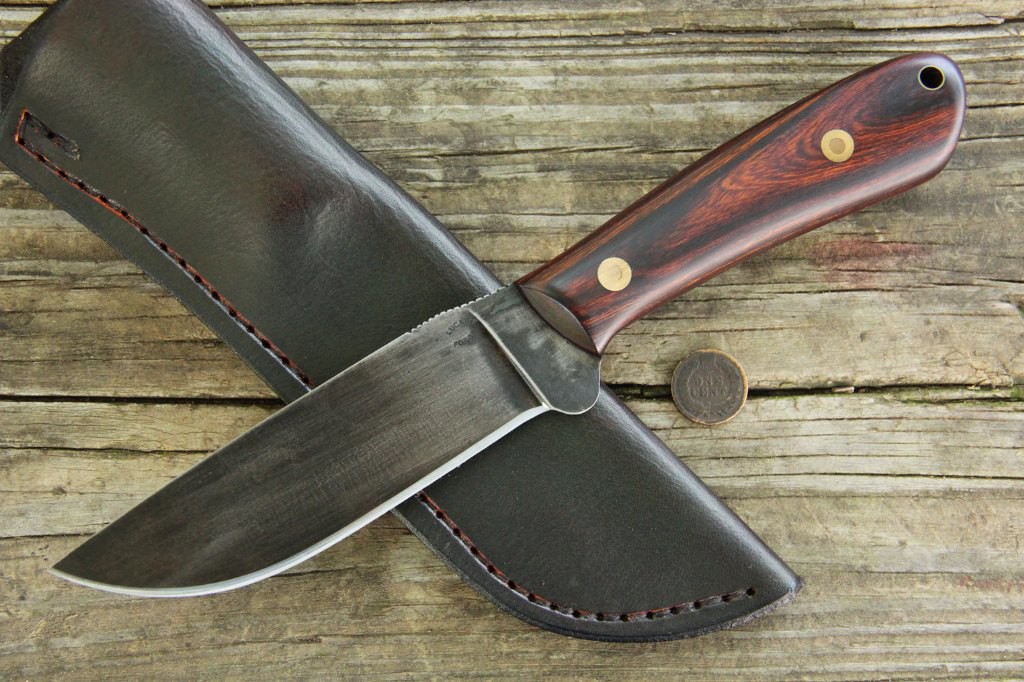 Patterned after the larger, earlier Lucas Forge creation, the Jaguar, this "mini" version (which actually isn't very mini) is a woods-worthy camp knife. The Mini Jaguar has power and size, but is a well-balanced working knife.
The Mini Jaguar is approximately 9 5/8 inches in overall length, including the blade length of about 4 1/2 inches.
Each knife is made out of 1/8-inch, O-1 high-carbon tool steel and features an integral guard and wide blade, with lots of cutting area. Other blade widths are available for your custom knife.

The blade comes standard with an aged finish, or can be customized by opting for a satin finish or hammer-forged pattern finish.

Brass bolt hardware is the hardware of choice for this model, but these can be upgraded to 3/16″ mosaic pins.
About 1″ of thumb jimping is filed into the spine of the Mini Jaguar and is included in the price of the knife…or you can customize by swapping out a different filework pattern. Click to see an example of the 

Classic

and

Vine

filework patterns.

Available in many handle materials – you pick! – and also in two handle styles. The standard, see above, or the #2 Kephart-style handle as seen below on MJ-6 and -7. The knife above has a tough ironwood handle.

Comes with its own handcrafted leather belt sheath by Ike. The Mini Jaguar is also fully compatible with the Trekker sheath. Please be sure to check out all Trekker's details

over here

!
The Mini Jaguar base price is $200.
To order your own customized Mini Jaguar, please fill out the form below! If you're interested in something you don't see here, please visit the Custom Options page or contact Lucas.
Important! Please note that I require a $25.00 deposit when taking a custom knife order online. By using the PayPal button below, you will be placing a custom knife order and paying the deposit. At this time the expected delivery for custom orders is about 7 months from order date. An email will be sent to let you know your order is ready. Thank you!
Order Form for Custom Mini Jaguar
Thank you for visiting the Mini Jaguar model page. If you have additional questions, please write to lucas@customhuntingknives.org. If you have the time, you may be interested in scrolling down through several more examples of the Mini Jaguar model below. If you have questions concerning a particular knife, please reference its number when writing (example: MJ-2). Thank you again for your interest!
Above: (MJ-9) Set of Mini Jaguars with impressive ironwood handles.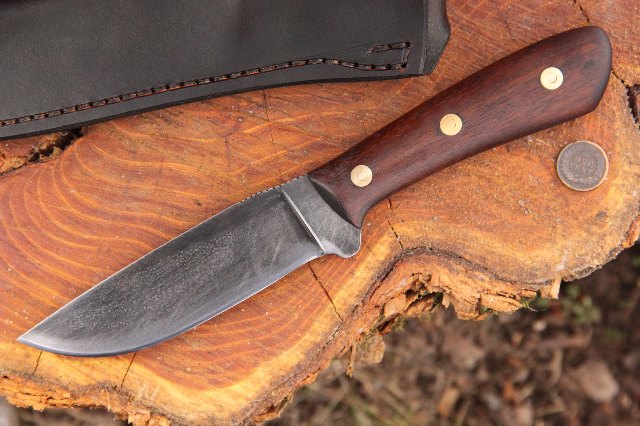 Above: (MJ-8) Walnut. This one is customized, with three brass bolts and no lanyard.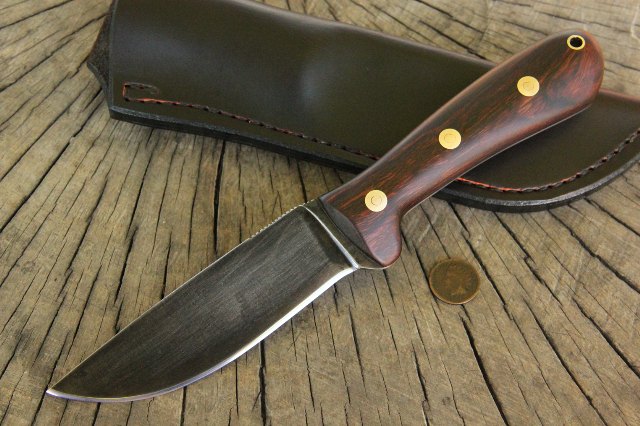 Above: (MJ-7) Ironwood and #2 style handle.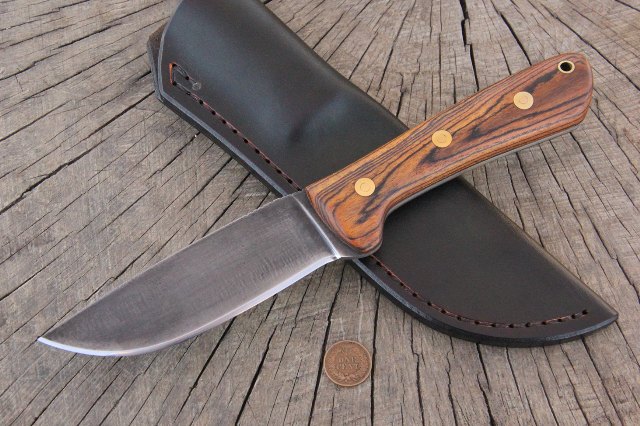 Above: (MJ-6) The Mini Jaguar really stands out with a bacote handle and Kephart-style handle design (#2)!
Above: (MJ-5) Curly maple handle.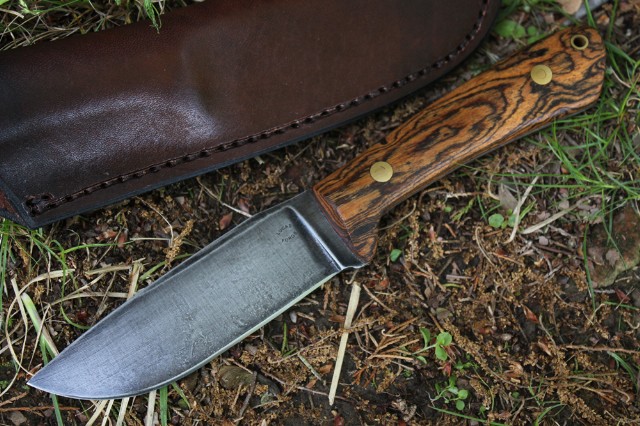 Above: (MJ-4) Rough and ready for time in the woods with a bacote handle.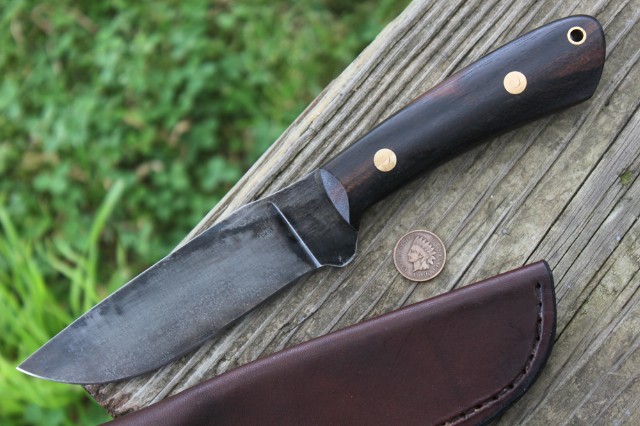 Above: (MJ-3) Rugged.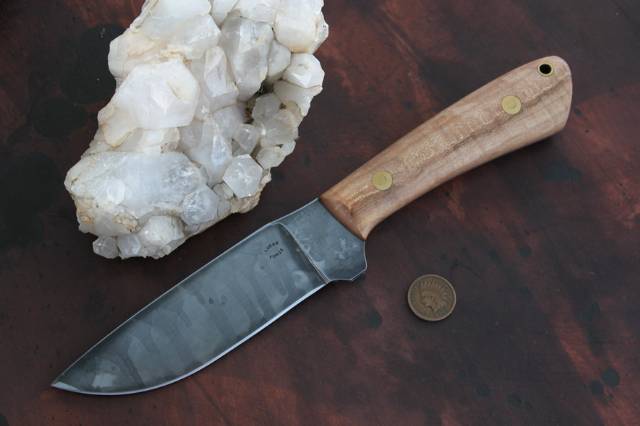 Above: (MJ-2) Curly maple handle.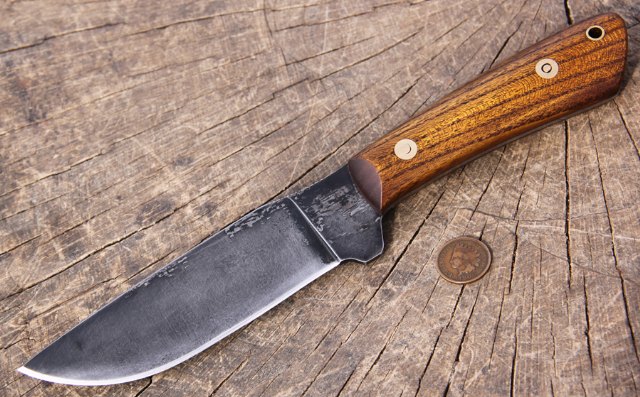 Above: (MJ-1) The Mini Jaguar with an osage orange handle.
What will yours look like? Order your custom Mini Jaguar knife using the form above!