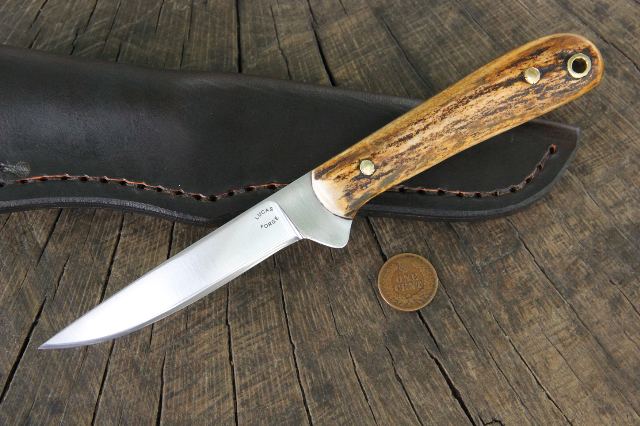 The ProSkinner, a Lucas Forge original model, was designed by a trapper and hunter extraordinaire and each knife is custom built in Alabama by Lucas.
The ProSkinner is approximately 7 5/8 inches overall. Blade is approximately 3 1/2 inches. The thin, well-shaped blade makes this knife highly suitable as a skinning knife, but it's also ideal for processing small game birds and fish.

This model features a high-quality, O-1 carbon tool steel blade, 3/32-inch in width as the standard.

The blade can feature 1) a sweet aged finish – the standard, 2) a polished satin-finish that should age and take on a darker patina with proper care, or 3) a hammer-forged finish! Your choice!

The standard hardware is a set of two brass pins, but can be upgraded to deluxe 3/16″ mosaic pins.

You choose the handle! There are many to choose from, but the best handle choices reflect the type of work the model is designed for. Materials such as laminates, micarta, whitetail and stag antler help the handle resist water and grime. The example shown at the head of this page has a magnificent stag handle!

Each knife comes with its own handcrafted vertical-carry leather belt sheath.
The ProSkinner model's base price is $160.
To order your own custom ProSkinner, please fill out the form below! If you're interested in something you don't see here, please visit the Custom Options page, email lucas@customhuntingknives.org or call (256) 431-6839 for more details.
Important! Please note that I require a $25.00 deposit when taking a custom knife order online. By using the PayPal button below, you will be placing a custom knife order and paying the deposit. At this time the expected delivery for custom orders is 6-7 months from order date. An email will be sent to let you know your order is ready. Thank you!
Order Form for Custom ProSkinner Knife
Thank you for visiting the ProSkinner model headquarters on Lucas Forge! Have an awesome day!
Below you can see some additional examples of the ProSkinner model. If you have questions about any of these knives, please reference the code found below its picture (example: PS3) when emailing. Also, if you would like to order a knife that's very similar to one that's pictured below, simply put the code into the "special instructions" box above when placing your order. Thank you!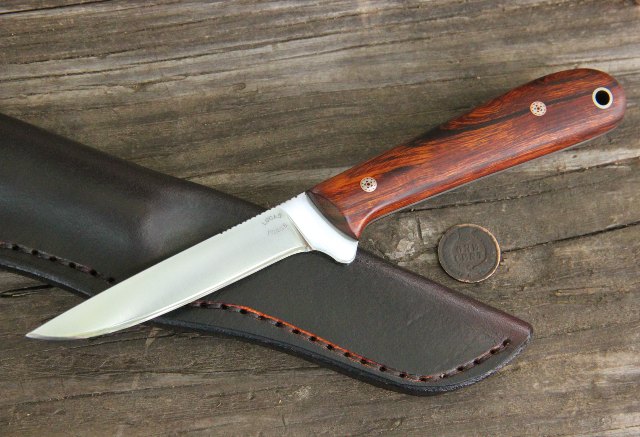 Above: (PS10) Incredible ironwood handle, paired with mosaic pins and thumb-jimping on spine.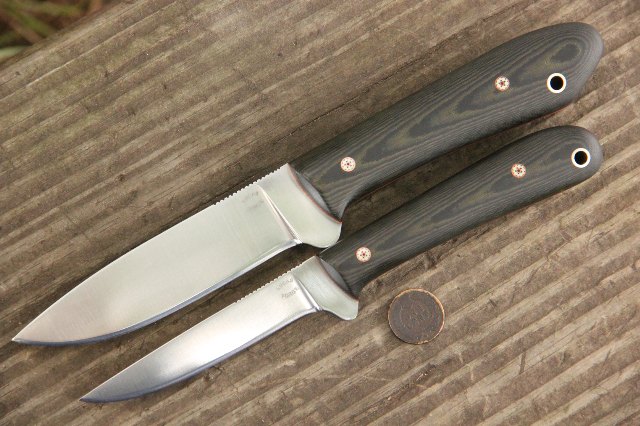 Above: (PS9) This set of Packer and ProSkinner features micarta handles, thumb-jimping, mosaic pins, and orange handle liners.
Above: (PS8) A warmly-hued curly maple handle.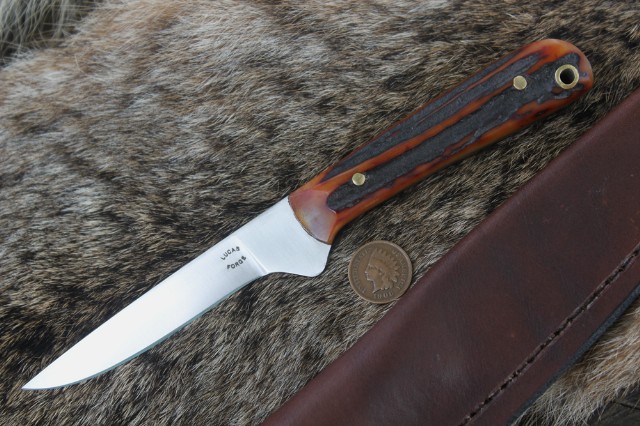 Above: (PS7) Stag handle. Rugged and deluxe…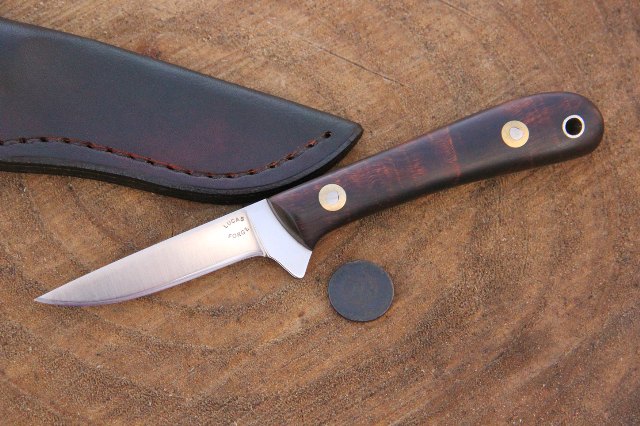 Above: (PS6) This is a fancy version of the ProSkinner with a few twists. For one, the blade is a shorter length at 2 1/2 inches. The handle is exhibition grade ironwood, set with brass and stainless steel pin sets.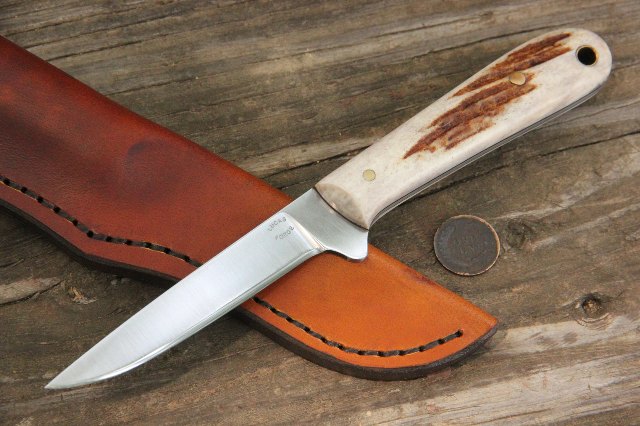 Above: (PS5) Elk antler handle with black liners and brass fittings. Buckskin sheath.
Above: (PS4) A heavily-grained curly maple handle.
Above: (PS4) A handsome cocobolo handle sets the ProSkinner off just fine.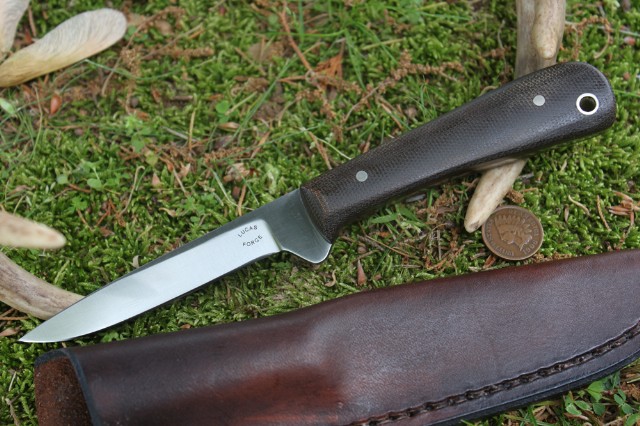 Above: (PS3) Grime resistant olive green micarta handle. Micarta is also available in other colors: black and natural.
Above: (PS2) An early version of the ProSkinner features a laminated oak handle.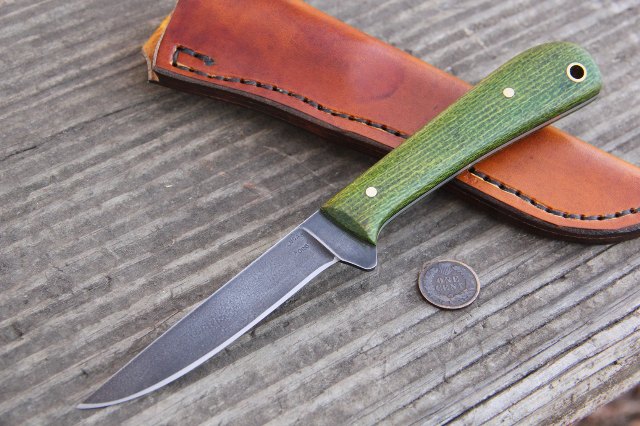 Above: (PS1) An aged blade finish paired with a bold green phenolic handle!
Thanks for looking!
What will yours look like? Order your custom ProSkinner knife using the form above!