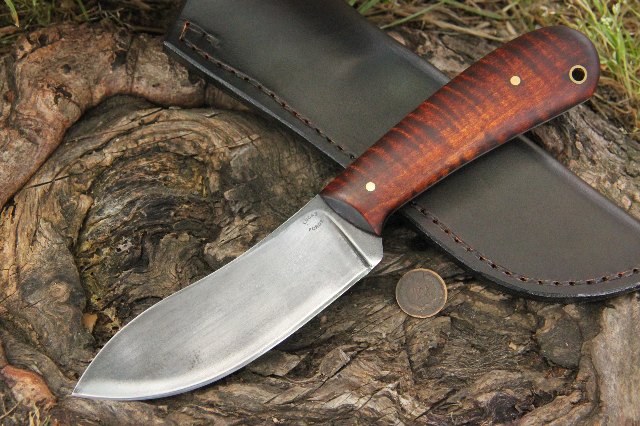 The Woodsman Nessmuk is a rich, historically-inspired knife design that is built for today's adventure.
This design is a variation of the knife favored by George Washington Sears, who's pen name was "Nessmuk." This is not a copy of his design and is not meant to be a reproduction. This knife is made for those who like the idea of a Nessmuk design, but don't want the extreme hump on the spine of the knife, or the continuously upward-sweeping  curve of the cutting edge. If you want an exact copy of the knife pictured in Mr. Sear's book, please let me know, I would be happy to build one for you.
 This is one of the designs that was featured in a Backwoodsman Magazine article July/August issue, 2013.
This model is about 8 3/4 inches in overall length, including the 4 1/4-inch blade. The flat-grind blade has a powerful sweep with lots of edge.

Made out of 1/8-inch, O-1 high-carbon tool steel. Other steel widths are available for custom order.

An aged blade finish is the standard for the Woodsman Nessmuk, but satin and hammer-forged pattern finishes are both options when customizing this knife.
Brass pins are the hardware of choice. Or, you can go deluxe and upgrade to 3/16-inch mosaic pins!

Many handle choices are available – you pick! The knife above is made with an epic curly maple handle with a medium brown stain.

All custom orders come with a handcrafted vertical-carry leather belt sheath, made in the shop! Horizontal sheaths are not available with this model…but better than that and best of all in the sheath options – the Woodsman Nessmuk is fully compatible with the Trekker sheath. Please be sure to check out all Trekker's details over on the

sheath page

!
The Woodsman Nessmuk model starts at $185.
To order your own custom Woodsman Nessmuk, please use the form below. If you're interested in something you don't see here, please visit the Custom Options page, email  lucas@customhuntingknives.org or call (256) 431-6839 for more details.
Important! Please note that I require a $25.00 deposit when taking a custom knife order online. By using the PayPal button below, you will be placing a custom knife order and paying the deposit. At this time the expected delivery for custom orders is 6-7 months from order date. An email will be sent to let you know your order is ready. Thank you!
Order Form for Custom Woodsman Nessmuk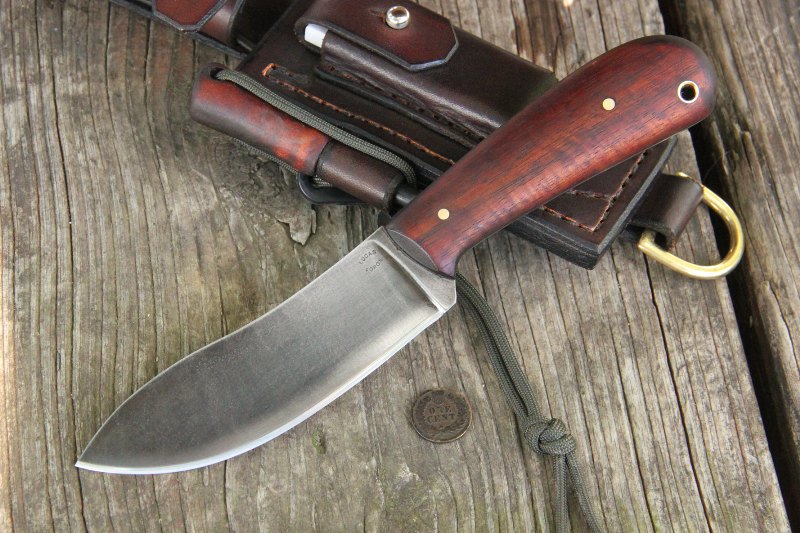 Above: Woodsman Nessmuk with a Trekker sheath. 
Below, you'll find a selection of Nessmuk knives made in the past. Please note that some of these knives exhibit a slightly different shape than I currently build. The knife at the top of the page is a later model. If you have questions regarding a particular knife, please include its code when writing (example: N-3) Thanks for looking! We hope you have a fine day!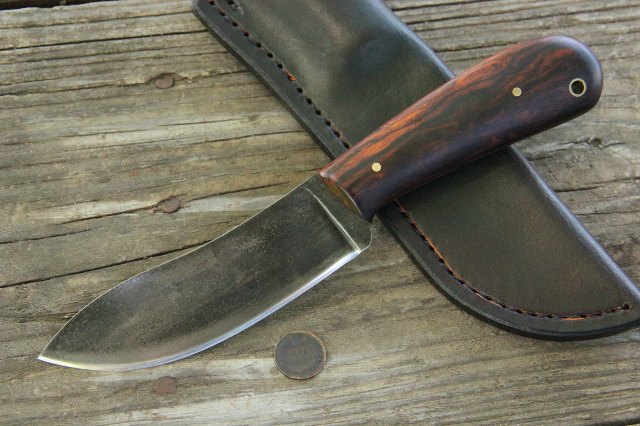 Above: (N-22) Ironwood handle, brass, and aged blade finish. Dramatic.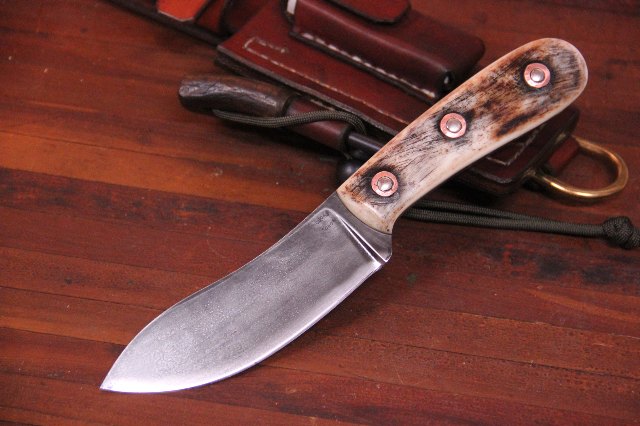 Above: (N-21) Aged bone handle with copper and nickel silver rivets. No lanyard hole. Trekker sheath!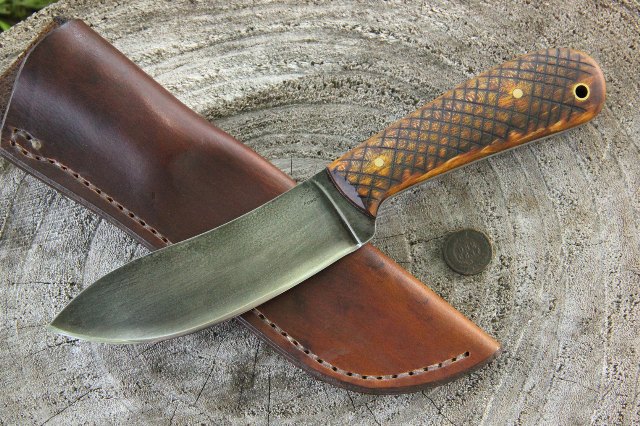 Above: (N-20) Bright curly maple, set off with special order full-handle cross-hatching.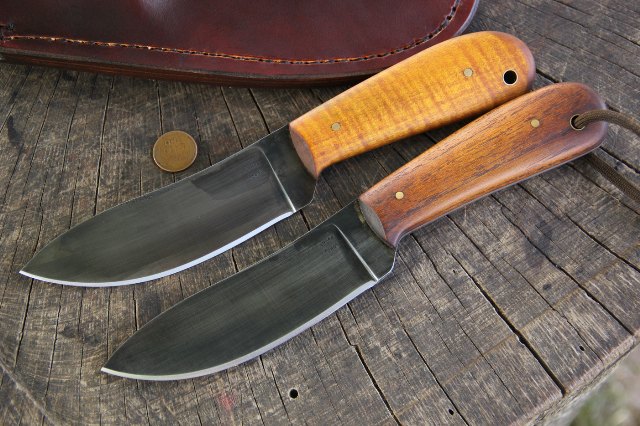 Above: (N-19) Top Woodsman Nessmuk features a bright curly maple handle; below is a stately osage orange handled edition.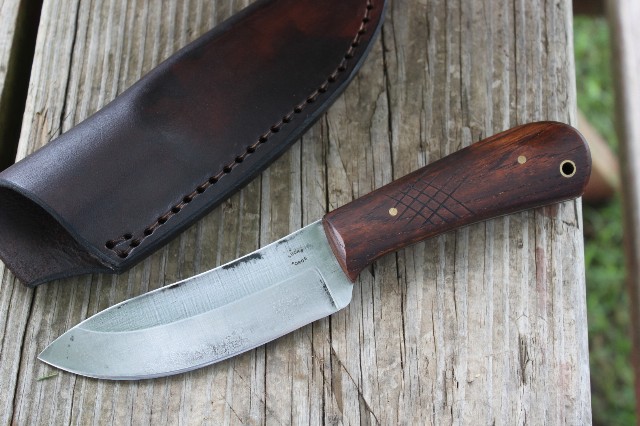 Above: (N-18) An early version of cross-hatching adds interest to a this early Woodsman Nessmuk with its classic walnut handle.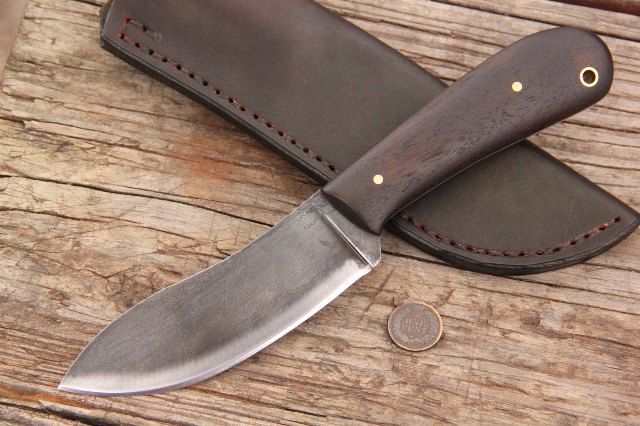 Above: (N-17) Another great example of a walnut handle.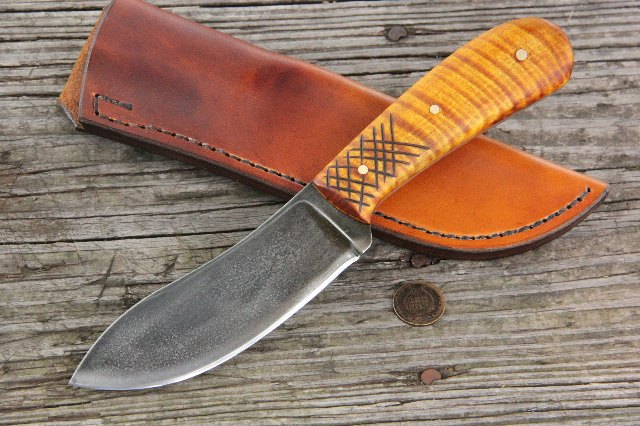 Above: (N-15)  Handle is curly maple with "buckskin" stain and cross hatching.

Above: (N-14) An exotic Bacote handle. Blade has thumb jimping.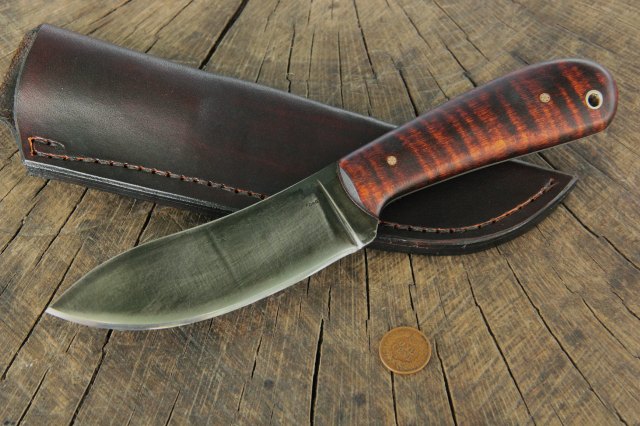 Above: (N-12) Yet another variation of the curly maple handle with a dark stain to finish it. Aged blade finish.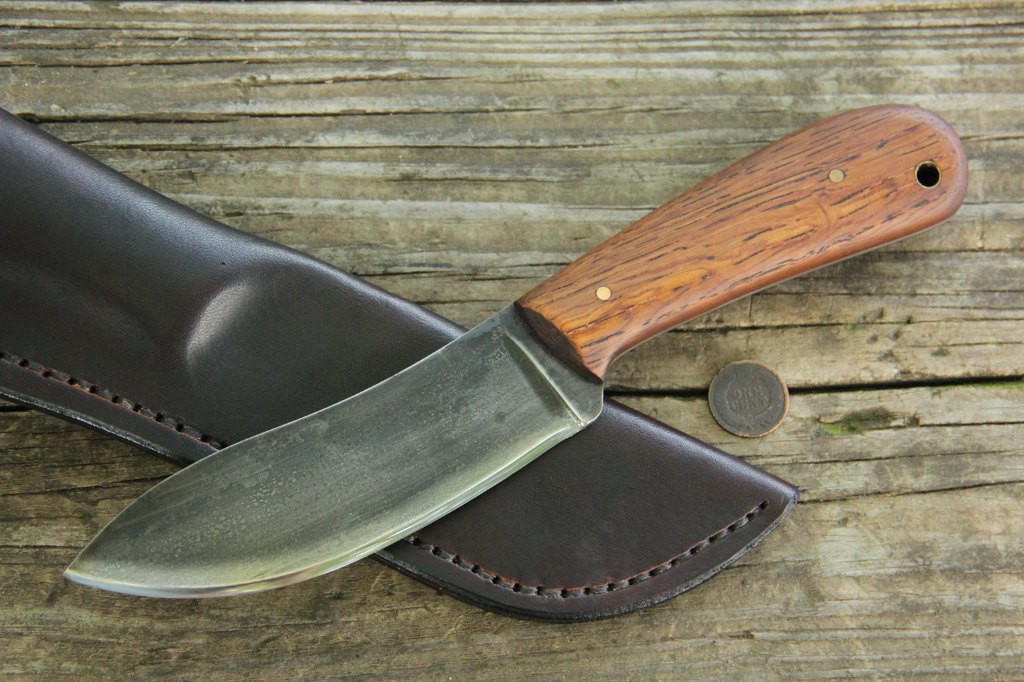 Above: (N-11) This one has an aged oak handle. It has an amazing grain.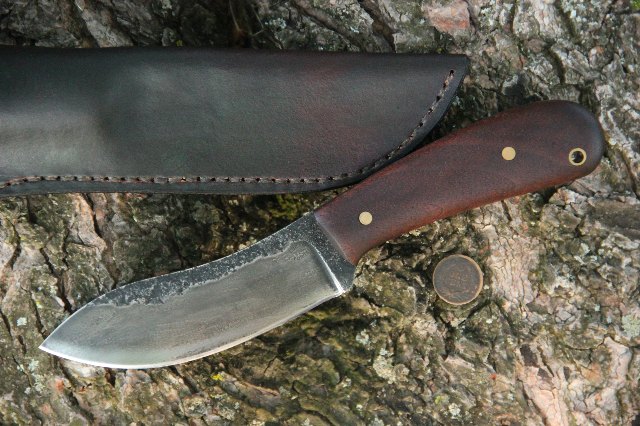 Above: (N-23) Walnut handle with the rustic hammer-forged pattern blade finish.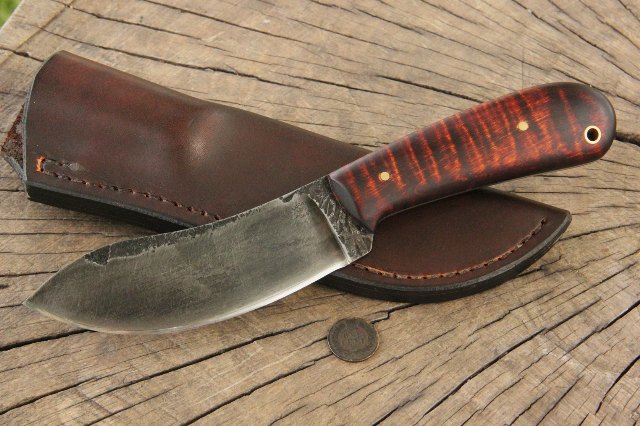 Above: (N-9) Hammer forged finish paired with dark curly maple. Very striking grain!
Above: (N-8) This Nessmuk has a very unique multi-material handle: curly maple, red fiber spacing, and osage orange.  A custom order.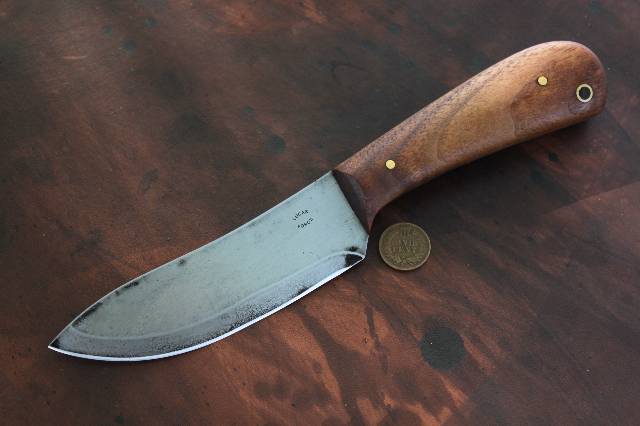 Above: (N-7) The Nessmuk handcrafted with a walnut handle. Traditional. Classic. So Woodsman Nessmuk. As a side, this is THE Nessmuk that was featured in the July/August 2013 issue of "The Backwoodsman" magazine.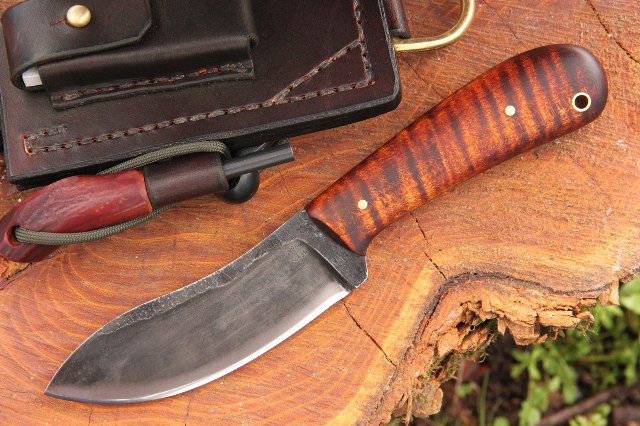 Above: (N-6) Curly maple handle and forged blade finish.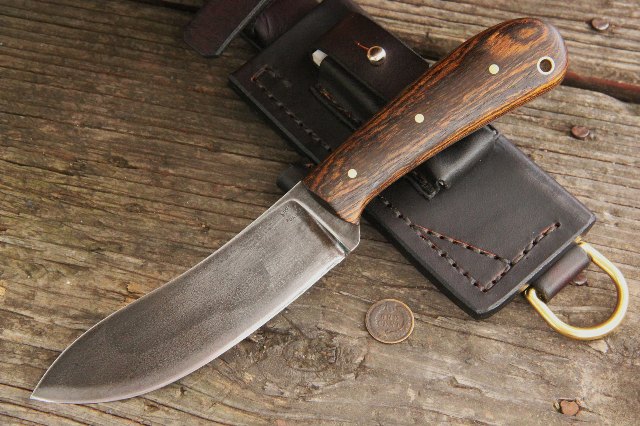 Above: (N-5) The 5-inch blade version with exotic bacote handle and accompanied by a Trekker sheath.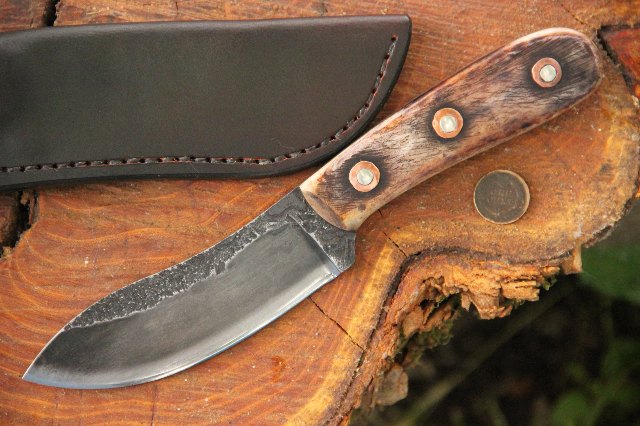 Above: (N-4) Hammer-forged pattern blade finish, aged bone handle, copper and nickel silver rivets. This one has a lot of historic flavor.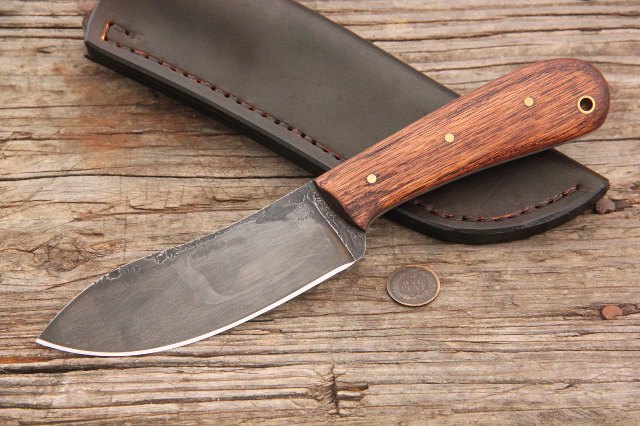 Above: (N-3) Handsome aged oak handle.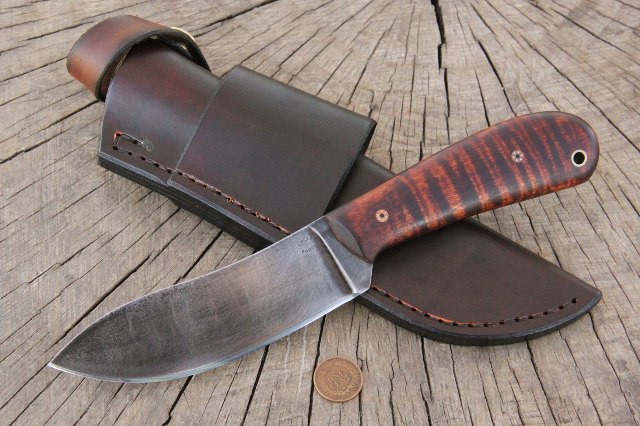 Above: (N-2) The Nessmuk with a stained curly maple handle. Mosaic pins.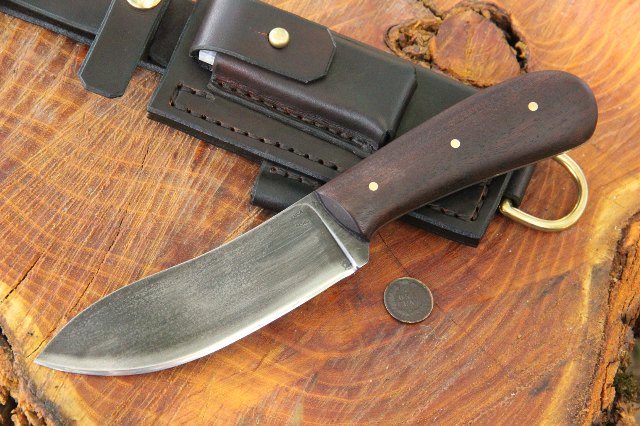 Above: (N-1) Classic Woodsman Nessmuk style: walnut, brass, aged blade finish, Trekker sheath.
What will yours look like? Order your custom Woodsman Nessmuk knife using the form above!